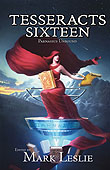 GENRE:
Speculative Fiction
Science Fiction
Fantasy
Anthology
Short Stories


---

KINDLE
KOBO
NOOK (TBA)
i-BOOK
google PLAY (TBA)


AMAZON.COM
AMAZON.CA
---

E-BOOK:
ISBN: 9781894063937
EPUB, MOBI
$4.99 US

Paperback:
ISBN: 9781894063920
Trade Paperback
5.5" X 8.5"
$15.95 US
$20.95 CDN
272 pages


---
BISAC:
FIC028040
FIC009040
FIC003000


Tesseracts Sixteen (Parnassus Unbound)

---
According to Greek Mythology, Mount Parnassus was sacred to Apollo (god of prophecy, music, intellectual pursuits and the arts) and home of the Muses. At the base of the mountain was a fountain named Castalia (a transformed nymph) that could inspire the genius of poetry for anyone who drank her waters or listened to her quiet soothing sounds.
The theme for "Tesseracts Sixteen (Parnassus Unbound)" is speculative fiction inspired by literature, music, art and culture.
In selecting stories, editor Mark Leslie's goal was to capture not only the spirit of what might be found on Mount Parnassus, but to allow it to be released, freed from the mythological Greek mountain and expanded upon in a way that only speculative literature can "unbind" such a theme.
"Tesseracts Sixteen (Parnassus Unbound)" features works by 26 modern day Muses gifted with the ability to take the reader on fantastical journeys: Neil Peart & Kevin J. Anderson, Robert J. Sawyer, Ryan Oakley, Steve Vernon, Hugh A. D. Spencer, Sandra Kasturi, Michael Kelly, Rebecca Senese, Randy McCharles, Chadwick Ginther, Stephen Kotowych, Carolyn Clink, J. J. Steinfeld, David Clink, Robert H. Beer, L. T. Getty, Scott Overton, Sean Costello, Virginia O'Dine, Melissa Yuan-Innes, Derwin Mak, Kimberly Foottit, Matthew Jordan Schmidt, Adria Laycraft, and Jeff Hughes.
Come sip from the mythical fountain, gaze into the infinite reaches of the universe and explore the endless depths of the mind in Tesseracts Sixteen's "unbound" tales of wonder and imagination!
About the editor:
Mark Leslie is a writer, editor and bookseller. In addition to his fiction writing Mark occasionally writes reviews, conducts interviews and regularly posts to his blog. He was the series editor for the North of Infinity science fiction anthology series. Mark sits on the board of directors for BookNet Canada, is the president of Canadian Booksellers Association and is the Director of Self Publishing and Author Relations for KOBO. As an active member of the book industry, Mark regularly speaks at conferences, conventions and workshops about books, writing, and publishing. [MORE]
---
About the Series:

---
Reviews:
Douglas Cobb, Bookspot Central
Tangent Online
---
PRAISE:
"Looking for a veritable banquet of the finest Canadian speculative fiction? Look no further than Tesseracts Sixteen (Parnassus Unbound) edited by Mark Leslie. Each of the previous anthologies have had their own special themes. This volume contains scintillating SF stories and poetry inspired by literature, music, art, and culture. I confess that I haven't had the pleasure of having read any of the previous collections, but I definitely enjoyed reading the wide variety of stories and poetry in this volume. It's a great showcase of the present state of Canadian speculative fiction and authors, and opened me up to the writing of many excellent writers who I had been unaware of before I read Tesseracts Sixteen (Parnassus Unbound) I will just touch on a four of the short stories and a couple of the poems in the anthology, but they are all of a high quality and are well worth reading." - Douglas Cobb, Bookspot Central
"...a fine addition to Canadian literature and the science fiction/fantasy genre... take a tour of Parnassus North. You'll be glad you did." - DJ Tyrer, The Supplement
"This is yet another first-rate collection of stories from Canada. All parts of 'the arts' are covered, in very unique ways. Individually, these stories are excellent; together, this book is highly recommended." - Paul Lappen, reviewer
---
MEDIA KIT [PDF]