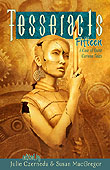 BISAC:
FIC009530
FIC028510
FIC015010

PRINT BOOK:
ISBN: 978-1-894063-58-5
Trade Paperback
5.5" X 8.5"

$15.95 US
280 pages



AMAZON.COM
AMAZON.CA

E-BOOK:
e-ISBN: 978-1-894817-94-3
$2.99 US



KINDLE
NOOK (TBA)
i-Pad (TBA)
KOBO
SONY READER (TBA)

E-BOOK (multi-format):
SMASHWORDS (TBA)

Tesseracts Fifteen (A Case of Quite Curious Tales)
For the young at heart...
Tesseracts Fifteen (A Case of Quite Curious Tales), edited by Julie Czerneda and Susan MacGregor, is the only volume in the long running Tesseracts series that is themed specifically for young adults and the young at heart. These stories are filled with "wonder and astonishment," say the editors. They are "stories that engage the imagination, inspire dreams, and leave hope in their wake. They will become the classics for a new generation of readers, to be remembered, fondly, for years to come."
This anthology joins a 25+ year Canadian literary legacy that features the writing and editing of more than 250 of Canada's best known authors.
Tesseracts Fifteen features works by:
Michelle Barker, K. Boorman, Shen Braun, Leslie Brown, E. L. Chen, Kevin Cockle, Julie Czerneda, Claire Eamer, Ed Greenwood, Jennifer Greylyn, Erika Holt, Michele Ann Jenkins, Kurt Kirchmeier, Claude Lalumière, Francine Lewis, Nicole Luiken, Susan MacGregor, Lynne M. MacLean, Helen Marshall, Cat McDonald, Virginia Modugno, Elise Moser, Katrina Nicholson, Tony Pi, Mike Rimar, Robert Runté, Rebecca M. Senese, J. J. Steinfeld, Amanda Sun.
About the Editors:
Julie Czerneda
Julie is a Canadian author and editor whose first novel, "A Thousand Words for Stranger", was published in 1997 by DAW Books. Since then, she has produced over a dozen more novels, edited fifteen anthologies, and written numerous short stories. Her work has won awards, consistently made best seller lists, and garnered praise from readers and reviewers around the world. [MORE]
Susan MacGregor
Susan has been an editor with On Spec magazine since 1991. Her published work has appeared in On Spec, Northern Frights, and other magazines. In 1998 her anthology Divine Realms was published through the Ravenstone imprint of Turnstone Books. Her most recent book The ABC's of How NOT to Write Speculative Fiction was published in 2006 by the Copper Pig Writer's Society. [MORE]
---
About the Series:

---
Praise:
"...an annual themed anthology of speculative fiction has, for its 2011 volume, brought out a collection of 27 YA stories by Canada's speculative fiction luminaries. Curious Tales indeed, their variety and quality is startling. This anthology would be both an excellent introduction to fantasy for those who "don't read that stuff" and a gateway to literary reading for the reluctant reader." - "Reading Canada: Teaching Canadian Fiction in Secondary Schools (by Wendy Donawa and Leach C. Fowler—Oxford University Press).
---
Reviews:
---
Interviews: