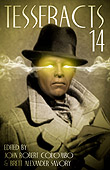 BISAC:
FIC009530
FIC028510
FIC015010

PRINT BOOK:
ISBN: 978-1-894063-37-1
Trade Paperback
5.5" X 8.5"

$16.95 US
304 pages



AMAZON.COM
AMAZON.CA

E-BOOK:
e-ISBN: 978-1-894817-87-5
$2.99 US



KINDLE
NOOK (TBA)
i-Pad (TBA)
KOBO
SONY READER (TBA)

E-BOOK (multi-format):
SMASHWORDS (TBA)

Tesseracts Fourteen (Strange Canadian Stories)
Strange Canadian stories...
Features innovative short stories and poetry by 23 of Canada's finest speculative fiction writers.
Tesseracts Fourteen features works by: Michelle Barker, Tony Burgess, Suzanne Church, David Clink, Michael Colangelo, Susan Forest, Lisa Hannett, Brent Hayward, Patrick Johanneson, Sandra Kasturi, Claude Lalumière, Michael Lorenson, Catherine MacLeod, Matthew Moore, David Nickle, John Park, Jonathan Saville, Robert J. Sawyer, Daniel Sernine, Leah Silverman, Jerome Stueart, Jon Martin Watts and others.
About the editors:
John Robert Colombo
Mr. Colombo is the Toronto-based author and anthologist whose byline has appeared on over 200 books of quality. These range from volumes of poetry to compilations of quotations. Colombo has been variously dubbed:


"The Master Gatherer" for his compilations of Canadiana.
"John 'Bartlett' Colombo" for his 'quote books.
"Canada's Mr. Mystery" for his collections of told-as-true ghost stories.
"Superfan" for his pioneering interest in Canadian fantastic literature.
Recently Mr. Colombo was the keynote speaker for the Montreal World Science Fiction Convention's academic track. Robert J. Sawyer, co-editor of Tesseracts 6 introduced "JRC". This is part of what he had to say...
"John is a towering presence in Canadian letters, a member of the Order of Canada – Canada's equivalent of knighthood – and is Canada's premiere folklorist and collector and compiler of Canadiana, as well as a significant poet, broadcaster, editor, and publisher.

Although he has 200 books to his credit, it is his six pioneering works in the field of Canadian speculative fiction that we celebrate this weekend, most significantly his massive historical retrospective Other Canadas, published in 1979 – thirty years ago – the first-ever anthology of Canadian science fiction and fantasy, a beautiful hardcover gathering 21 fiction pieces and 28 poems drawn from 400 years of Canadian history.

Prior to that book, no one had made the case that there was such a thing as Canadian science fiction and fantasy: It was John who proved to Canada's publishers, editors, academics, writers, and readers that the field actually existed.

When my wife and I edited Tesseracts 6, we dedicated the book thus: "To John Robert Colombo, whose pioneering Other Canadas blazed the trail for the all the Canadian science fiction and fantasy anthologists who followed."- Robert J Sawyer, Co-editor Tesseracts 6.
Colombo has won numerous awards including:


Ontario Library Association's Certificate of Merit
Periodical Distributors of Canada's Best Paperback of the Year 1976
Centennial Medal, 1967
Esteemed Knight of Mark Twain
Order of Cyril and Methodius (1st class)
Harbourfront Literary Prize, 1985
D.Litt. (h.c.), York University, Toronto, June 1998
Member, Order of Canada, 2004
Biographer-biographee: "The Canadian Encyclopedia," "The Oxford Companion to Canadian Literature," "The Canadian Who's Who," "Contemporary Poets," etc.
Course leader, Canadian Management Centre of the American Management Association
Participant, ideaCity, June 2002
Coat of Arms, granted May 2007, with motto "Alert" in three languages
Associate, Northrop Frye Centre, Victoria College, University of Toronto, 2007-2008
Brett Alexander Savory
The Bram Stoker Award-winning Editor-in-Chief of ChiZine: Treatments of Light and Shade in Words, Co-Publisher with Sandra Kasturi of ChiZine Publications (CZP), has had nearly 50 short stories published, written two novels and penned the foreword to Tesseracts Twelve.
In 2006, Necro Publications released his horror-comedy novel The Distance Travelled. September 2007 saw the release of his dark literary novel In and Down through Brindle & Glass, and November brought his first short story collection, No Further Messages, released through Delirium Books. In the works are three more novels. When he's not writing, reading, or editing, he plays drums for a band that his wife wants him to call Magic Pussy.
Acknowledged by Quill & Quire's "Best Books of the Year" list in 2007 for his novel In and Down, Brett Alexander Savory lives in Toronto with his wife Sandra Kasturi, whose writing has been featured in previous Tesseracts anthologies. [MORE]
---
About the Series:

---
Reviews:
---
Interview: