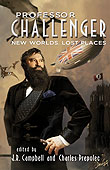 PREVIEW THE BOOK

GENRE:
Fantasy Anthology
Short Stories
Speculative Fiction


---
KINDLE
KOBO
NOOK
i-BOOK
google PLAY
AMAZON.COM
AMAZON.CA
---

E-BOOK:
ISBN: 9781770530539
EPUB, MOBI
$5.99 US

Paperback:
ISBN: 9781770530522
Trade Paperback
5.5" X 8.5"
$15.95 US
$20.95 CDN
272 pages


---
BISAC:
FIC009000
FIC009040

Professor Challenger: New Worlds, Lost Places
---
Nominated for a 2016 Aurora Award
– BEST RELATED WORK – ENGLISH –
---
Brilliant, belligerent and bearded in equal measure, incapable of suffering fools, or journalists, gladly, the greatest scientific mind of his generation - Sir Arthur Conan Doyle's Professor George Edward Challenger returns in ten all-new tales of scientific adventure and wonder.

Professor George Edward Challenger is the discoverer of The Lost World, the prophet of The Poison Belt, the destroyer of The Disintegration Machine, and the man who made the World Scream!

Who can deliver mankind from the shackles of ignorance?

Who else but that great self-proclaimed champion of science? We give you, ladies and gentlemen, children of all ages, the one, the only, Professor George Edward Challenger!

This original anthology, from the authors and editors who brought you the Gaslight Sherlock Holmes series, sees Challenger and his stalwart companions including the reporter Malone, big game hunter Lord John Roxton and the skeptical colleague Professor Summerlee, travel across space and witness the ravages of time, narrowly eluding a dinosaur's bite only to battle against the invasive red bloom of alien foliage, and then plunge deep into the mysteries hidden within the Earth and reach out to the moon and into the heart of the unknown.

Strap yourself in for chills, thrills, and challenges to the unknown in exciting new worlds and lost places with literature's foremost scientific adventurer.

Featuring stories by: Simon Kurt Unsworth, Stephen Volk, Guy Adams & James Goss, Lawrence C. Connolly, Mark Morris, Josh Reynolds, John Takis, Wendy N. Wagner, Andrew J. Wilson and J. R. Campbell. With an Introduction by Christopher Roden.

---
"The whole matter is very fully and lucidly discussed in my forthcoming volume upon the earth, which I may describe with all due modesty as one of the epoch-making books of the world's history."
– Professor G. E. Challenger, When the World Screamed
---

The Professor Challenger: New Worlds, Lost Places Booktrailer
---
About the Editors:
J. R. Campbell's fiction has appeared in a wide variety of publications including Spinetingler Magazine, Wax Romantic, and Challenging Destiny. From time to time his writing can also be heard on radio's Imagination Theater and The Further Adventures of Sherlock Holmes. [MORE]
Charles Prepolec has contributed articles and reviews to All Hallows, Sherlock Magazine, Scarlet Street, and Canadian Holmes. An active Sherlockian for more than 20 years with The Singular Society of the Baker Street Dozen, Charles lives in Calgary with his wife Kristen and their cat Karma. [MORE]
---
REVIEWS:
"Sir Arthur Conan Doyle did more than just create the character of Sherlock Holmes. He also created Professor George Edward Challenger, a hulking, bombastic man of science (think "bull in a china shop"). He doesn't take any nonsense from anyone, and is not afraid to say so. He also frequently remarks that he is the smartest man in England, which is usually correct. ... I totally enjoyed these tales. They are all well done, with enough and weird stuff for anyone. ... This book is highly recommended." - Paul Lappen, Reviewer Dead Trees Review
"Strap yourself in for chills, thrills and challenges to the unknown in exciting new worlds and lost places with literature's foremost scientific adventurer." - John ONeill, Blackgate
"Wow! I mean, wow! ... If I haven't been blunt enough, I will state this explicitly, buy this book! You won't be disappointed." - Derrick Belanger, author and educator
"...these stories serve as a filter to allow the reader to see Challenger as those closest to him do. That insufferable brute of a man (with the mind of a genius) is also a loyal, understanding, and compassionate man. One who would just as soon toss you out a window as look at you... unless he calls you friend, in which case, he would move Heaven and earth for you. And this, to me, is what makes Prepolec and Campbell's vision of Challenger truly great." - J.W. Schnarr, author & reviewer