Danse Macabre: Close Encounters with the Reaper

---
"People die from old age, illness, accident, violence, despair. They can die before they are born. The happy and the sad, the sane and insane, the rich and the poor, the law abiding and the criminal, the genius and the fool, the saint and the sinner. Some face death consciously, others die in their sleep. But we all die and Danse Macabre is a kind of universal melting pot for death. My goal is to create an anthology that is a literary version of the Danse Macabre artwork, showing the same range of humanity in a variety of situations and encounters with death." -- Nancy Kilpatrick
This anthology is the most unusual and original collection of stories you'll ever read! It is a literary version of Danse Macabre "Plague art". Twenty-six literary reflections that embody those themed, classical artworks devoted to the spectrum of humanity's intriguing interactions with the Angel of Death.
Danse Macabre includes works by:
[SEE BELOW FOR LINKS TO BIOS]
Gabriel Boutros, Brad Carson, Suzanne Church, Dan Devine, Lorne Dixon, Tom Dullemond, Opal Edgar, Ian M. Emberson, Edward M. Erdelac, Sabrina Furminger, Stanley S. Hampton, Sr., Brian Hodge, Nancy Holder & Erin Underwood, J. Y. T. Kennedy, Nancy Kilpatrick, Tanith Lee, Brian Lumley, William Meikle, Lisa Morton, Tom Piccirilli, Morgan Dempsey, Timothy Reynolds, Angela Roberts, Lawrence Salani, Lucy Taylor, Bev Vincent, Bill Zaget.
---

Winner in the ANTHOLOGIES category
---
About Danse Macabre 'Plague Art':
Danse Macabre (French); Totentanz (German); Il Ballo di Morte and (Italian); Dança de la Muerte (Spanish); Dodendans (Dutch); Dança da Morta (Portuguese); The Dance of Death (English), these are some of the names for what has been called 'plague art', artwork created because of the Black Plague which decimated Europe from the 1400s and killed approximately 50% of the population. This artwork most frequently appeared on the walls of churches, monasteries and nunneries, and chapels and ossuaries in cemeteries, usually painted directly onto the walls or painted on wood panels or sometimes carved into part of the building's interior or exterior. At least one stained glass piece has survived. Most of the artwork is now lost but some remains.
Essentially the works depict death in the form of a skeleton leading a mortal to a 'dance' or, to his/her death. The mortals ranged from beggars to Kings, merchants to Popes. Most were male but soon females were painted, milk maids and nuns, prostitutes and empresses. The underlying idea is that all people die, no matter what their station in life. Death is both just and unjust. Death is the great equalizer. This artwork was a memento mori ("Remember, you will die").
History of 'Plague Art':
The first known Danse Macabre art was painted on the interior walls of the Cimetière des Innocents in Paris in 1424 (artist unknown), accompanied by poetry. This was not a cemetery as we know them today but a bone yard, where remains were tossed onto a pile. During the Black Plague, so many were dying, the cause of the plague unknown at that time, that death of family, friends and neighbors, the priest, the king and queen became a frequent occurrence in everyone's life.
The original artwork did not survive when the Parisian cemetery was demolished (once they discovered germs and realized the dead should be burned or buried). It was, though, reproduced in a book, woodcuts designed by Hans Holbein the Younger. This type of art was recreated throughout Europe between the 1400s and the 1800s.
Danse Macabre followed on the heels of a 13th century literary genre called Vado Mori ('I prepare myself to die'), poetry wherein people complained about having to depart this life too soon.
Slightly later, Ars Moriendi (The Art of Dying) came along, Latin texts from 1415 and 1450 that offer advice on the protocols and procedures of a good death, how to 'die well', according to Christian precepts. This idea is depicted in Artes moriendi (artwork), often showing the dying person in their bed with an angel on one side and the devil on the other, the two arguing their case to sway the soul of the soon-to-be-deceased.
More Dance Macabre artwork:
Here are a few websites where you can see Danse Macabre artwork, gather further information, and get a better fix on what it's about:

---
About the Editor:
Award-winning author Nancy Kilpatrick has published eighteen novels, over one hundred and ninety short stories, five collections of stories, and has edited nine other anthologies. Much of her body of work involves vampires. Nancy writes dark fantasy, horror, mysteries and erotic horror, under her own name, her nom de plume Amarantha Knight, and her newest pen name Desirée Knight (Amarantha's younger sister!) Besides writing novels and short stories, and editing anthologies, she has scripted four issues of VampErotic comics. As well, she's penned radio scripts, a stage-play, and the non-fiction book The Goth Bible: A Compendium for the Darkly Inclined (St. Martin's Press — October 2004).
Nancy won the Arthur Ellis Award for best mystery story, is a three times Bram Stoker finalist and a five times finalist for the Aurora Award [MORE]
---
About the Cover Artist:
Ex-gravedigger John Kaiine, self trained professional artist/photographer, is also the author of the critically acclaimed metaphysical thriller Fossil Circus and various short stories, including the short film feature Dolly Sodom. He lives in a house by the sea with his wife, Tanith Lee, and two black and white cats.
---
Stories to die for: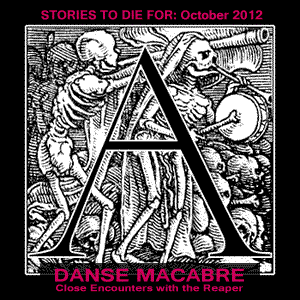 The origins of Holbein's Dance of Death illustrations remain something of a mystery. Holbein produced the designs whilst working and living in Basel, a Swiss town with two important Dance of Death murals. They were originally completed 12 years prior to their first publication in 1538. An alphabet with decorative initials incorporating preliminary studies for his Dance of Death were also completed in 1524.
---
Praise:
"This is a very good collection, with a lot of great stories by some of the best writer's working in dark fiction today. The stories are varied, interesting and entertaining." — Peter Schwotzer
"Danse Macabre, ironically, breathes a form of life into Death, turning it from a two-dimensional skeleton hung out for Halloween into a vibrant spirit with countless facets and fascinating layers." — Josh Vogt
"If you have a fascination with Death and The Reaper you will be hard pressed to find a better group of stories to spend time with and I highly recommend this collection." — Literary Mayhem
"I would say Danse Macabre really isn't horror despite being about death. There are a few stories that are indeed horrific or disturbing, but overall this collection, far reaching in style, eras, cultures and viewpoints, is about life and living. I give it 9 scythes out of 10." — Colleen Anderson
"This is a very good collection, with a lot of great stories by some of the best writer's working in dark fiction today. The stories are varied, interesting and entertaining. As with all collections I did enjoy some of the stories more than others, though I didn't think there was a weak story in the book." — famousmonsters.com
"Danse Macabre is a well-written, unusual and original collection, all fixated on Death in his/her different versions and periods in time, from authors famous and otherwise. The subtitle says it all: "Close Encounters With the Reaper." Avoid it if you are looking for a book filled with sunny tales! Danse Macabre would appeal to the reader of horror stories or one who appreciates something different from the usual run of vampire and zombie anthologies." — Ronald Hore
---
Reviews:
Peter Schwotzer, Goodreads
Josh Vogt
Colleen Anderson
Literary Mayhem
Douglas Barbour
Famous Monsters
---
Interviews:
Bitten By Books
Anthology Interview: Erin Underwood
---
Media Interviews (pop-up player):
Stephen Pearl interviews Nancy Kilpatrick (video)
DJNik radio interview (Podcast)
---
MEDIA KIT [PDF]