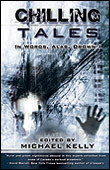 PREVIEW THE BOOK

GENRE:
Dark Fantasy
Anthology
Short Stories


---
KINDLE
KOBO
NOOK
i-BOOK
google PLAY
AMAZON.COM
AMAZON.CA
---

E-BOOK:
ISBN: 9781770530256
EPUB, MOBI
$5.99 US

Paperback:
ISBN: 9781770530249
Trade Paperback
5.5" X 8.5"
$14.95 US
$19.95 CDN
240 pages


---
BISAC:
FIC009070
FIC009040


Chilling Tales: In words, alas, drown I
---
21 New Spine Tingling Tales...
Canada's maestro of the macabre, Michael Kelly, brings you CHILLING TALES: In Words, Alas, Drown I, an all new collection of nightmares that will perturb and torment you. Tales that will leave a frisson of fear and raise a quiver of gooseflesh. A chill is in the air.
This tome includes selections by iconic Canadian dark fantasy and horror writers Camille Alexa, Colleen Anderson, Kevin Cockle, Gemma Files, Lisa L. Hannett, Sandra Kasturi, Derek Künsken, Claude Lalumičre, Daniel LeMoal, Catherine MacLeod, Helen Marshall, Michael Matheson, David Nickle, Ian Rogers, Douglas Smith, Simon Strantzas, Edo van Belkom, Halli Villegas, Bev Vincent, Robert J. Wiersema, and Rio Youers, with an introduction by Michael Kelly.
Table of Contents:
---
Book Trailer (2:36):
---
About the Editor
Michael Kelly was born in Charlottetown, Prince Edward Island. He is the author of two short story collections, Scratching the Surface, and Undertow and Other Laments, as well as co-author of the novel Ouroboros. His fiction has appeared in a number of anthologies and journals, including All Hallows, Be Very Afraid!, Dark Arts, Darkside 5, Flesh & Blood, The Mammoth Book of Best New Horror 21, The Literary Journal, Murmurations, PostScripts, Space & Time, Supernatural Tales, and Tesseracts Thirteen.
As editor, Michael is a Shirley Jackson Award finalist for Apparitions. He also edits and publishes the well-received literary journal Shadows & Tall Trees, and has helped judge The Toronto Star Short Story contest.
---
Reviews:
---