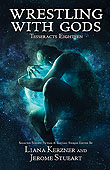 Reading Sampler (PDF)

GENRE:
Speculative Fiction
Science Fiction
Fantasy
Anthology
Short Stories


---
KINDLE
KOBO
NOOK
i-BOOK
google PLAY
AMAZON.COM
AMAZON.CA
---

E-BOOK:
ISBN: 9781770530690
EPUB, MOBI
$5.99 US

Paperback:
ISBN: 9781770530683
Trade Paperback
5.5" X 8.5"
$15.95 US
$20.95 CDN
230 pages


---
BISAC:
FIC028040
FIC009040
FIC003000


Wrestling With Gods (Tesseracts Eighteen)

---
Nominated for a 2016 Alberta Book Publishing Award
– Speculative Fiction –
---
A mechanical Jesus for your shrine, the myths of cuttlefish, a vampire in residential schools, a Muslim woman who wants to get closer, surgically, to her god, the demons of outer space, the downside of Nirvana. The 24 science fiction and fantasy stories and poems included in Tesseracts 18: Wrestling with Gods take their faith and religion into the future, into the weird and comic and thought-provoking spaces where science fiction and fantasy has really always gone, struggling with higher powers, gods, the limits of technology, the limits of spiritual experience.
At times profound, these speculative offerings give readers a chance to see faith from the believer and the skeptic in worlds where what you believe is a matter of life, death, and afterlife.
Featuring works by: Derwin Mak, Robert J. Sawyer, Tony Pi, S. L. Nickerson, Janet K. Nicolson, John Park, Mary-Jean Harris, David Clink, Mary Pletsch, Jennifer Rahn, Alyxandra Harvey, Halli Lilburn, John Bell, David Jón Fuller, Carla Richards, Matthew Hughes, J. M. Frey, Steve Stanton, Erling Friis-Baastad, James Bambury, Savithri Machiraju, Jen Laface and Andrew Czarnietzki, David Fraser, Suzanne M. McNabb, and Megan Fennell.
---
Meet the editors and authors
---
Praise:
"This anthology has confirmed my belief that some of the best theological writing is happening in the science fiction and fantasy genres. Who are we? Do gods -- or does God -- exist? What is Truth? And does it matter if we believe in any of these things, or does it only matter how we act? These are questions of faith, and these are some of the questions that are raised, and sometimes answered, in these stories. Taste and see; decide for yourself. You will find that for which you seek." -- The Rev. Sharon Sheffield, Episcopal priest, long-time speculative fiction fan.
---
About the editors: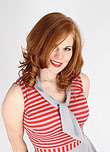 Liana Kerzner is an award-winning TV producer & writer who has also stepped in front of the camera as the co-host of the legendary late night show Ed & Red's Night Party, the Canadian Comedy Award-winning this Movie Sucks!, and Ed the Sock's I Hate Hollywood!  An episode of I Hate Hollywood was lauded by mental health workers for de-stigmatizing mental illness.  Another early episode was well-received for its look at religion in Hollywood.
Liana also provides commentary, reviews and video interviews for video game site gamingexcellence.com.  She is co-columnist of 411 Mania's "The 8 Ball", and host/writer of Liana K's Geek Download, heard weekly on the internationally syndicated radio program Canada's Top 20.  She has edited and contributed writing to a comic book mini-series: Ed and Red's Comic Strip.
She has hosted and produced the Prix Aurora Awards ceremony three times.  She is founder and chair of the Futurecon organization, which uses Science-Fiction and Fantasy elements to reduce various types of stigma and raise money for various charities.
Her stranger achievements include: modeling for videogames, having her superhero toy & art collection featured on TV's Space channel, researching and presenting a paper on Mormon Cosmology in the Twilight Saga, and having a DC Comics character named after her. Liana is an avid cosplayer and her costume work made her the face of Western cosplay on Wikipedia.
Jerome Stueart makes his home in the Yukon Territory. Hailing from Missouri and West Texas, Jerome came up to the Yukon to work on northern science fiction. He fell hard for the place.  Stueart is a graduate of Clarion Science Fiction and Fantasy Workshop in San Diego (2007) and of the Lambda Literary Retreat for Emerging LGBT Voices (2013).  He has been published in Fantasy, Geist, Joyland, Geez, Strange Horizons, Ice-Floe, Redivider, On Spec, Tesseracts Nine, Tesseracts Eleven, Tesseracts Fourteen and Evolve: Vampire Stories of the New Undead.  He earned honourable mentions for both the Fountain Award and Year's Best Science Fiction 2006. He co-edited Inhuman. As a cartoonist he was featured in the Yukon News, and as a journalist he wrote for Yukon, North of Ordinary, Air North's in-flight magazine.  He's worked as a janitor, a trolley conductor, an embedded reporter in a remote northern research station, a Religious Education director, and a marketing director.  He wrote five radio series for CBC, and one of them, Leaving America, was heard around the world on Radio Canada International.  Jerome has taught creative writing for 20 years, and taught an afterschool course in fantasy and science fiction writing for teens for three years.  He teaches a workshop he designed called Writing Faith in churches across Canada and the USA.
Jerome Stueart Interview
with Derek Newman Stiles
on Trent Radio


[Click Play to listen to the interview]
---
---
Library Thing Reviews:
---
Reviews:
"Wrestling with Gods stands as a splendid tribute to the thirtieth anniversary of Tesseracts, the legendary Canadian-written, edited and published series of speculative fiction stories. Enjoy these intense tales a few at a time, or immerse yourself in the collection from start to finish. Be sure to turn off your phone…" -- Carol Shetler, Amazing Stories


"Of course faith has many dimensions and the Gods take many forms — old and new, homegrown and alien, organic and mechanical. But what's interesting here is the way faith is rarely presented as being on the defensive in a secular age. Instead, it's the enlightened forces of science that are trying to resist the pull of the spirit — and more often than not losing the struggle." -- The Toronto Star


"Wrestling with the Gods is a collection that challenges rather than conforms. It asks readers whether at times the opposite of the expected norm may be the best path and invites readers to question what they are told is Truth. It illustrates that the idea of Truth itself is subjective, open to question and interrogation, and ultimately that there will always be a multiplicity of truths rather than a singular Truth. Through the power of stories, with all of their potential to embody multiple truths and interpretation, Tesseracts Eighteen invites us to recognize that the concept of Truth is infinitely more complicated than we can imagine and it is always multiple and contradictory, but that we should keep imagining and through imagination we might discover our own collection of truths." -- Derek Newman-Stille, Speculating Canada


"...the writing is undeniable excellent throughout. Liana Kerzner and Jerome Stueart clearly had a treasure trove of stories to choose from; I can honestly say there is nothing here that I didn't thoroughly enjoy. ...these stories have the sense-of-wonder that many of the classic stories inspired in me as a young reader. Kerzner and Stueart curated a collection of stories here that undeniably belong together. ... This anthology has an incredible range of story approaches, from primitive societies to far future and high tech." -- Robert August, PH.D.


"...the standouts of the collection make up their own religions and cultures, such as James Bambury's charming "Chromatophoric Histories of the Sepiidae," which traces the entire course of a civilization of octopi, or Megan Fennell's powerful "Where the Scorched Man Walks," in which a young woman has to confront her feelings about her culture's enigmatic death god." -- Publishers Weekly


Derek Newman-Stille's review of "Ganapati Bappa Moriya"> by Savithri Machiraju in Speculating Canada


Derek Newman-Stille's review of "Chromatophoric Histories of the Sepiidae"> by James Bambury in Speculating Canada


Derek Newman-Stille's review of "The Faith Circus"> by Alyxandra Harvey in Speculating Canada


Derek Newman-Stille's review of "Mecha-Jesus"> by Derwin Mak in Speculating Canada


"A diverse collection of engaging stories well worth the read..." -- Alex Binkley


"This is a surprisingly science fictional anthology given its theme, but there's plenty of fantasy, too. It is also surprisingly short on uncomplicated "hallelujah" stories a strongly orthodox Christian could really revel in. There's a range of belief, doubt, and disbelief covering real religions from Christianity to Islam to Hinduism and a variety of invented religions and/or deities as well." -- Jason McGregor, Tangent Online


"Wrestling With Gods is an anthology of short stories and poems by Canadian authors of speculative fiction. Well written, and certainly varied in a past, present and future approach to life, death, and the afterlife, the volume continues in the tradition of the "Tesseracts" series. It will appeal to lovers of this familiar format. Recommended." -- Ronald Hore, CM Online - Volume XXI Number 32


"First of all, I will be forever jealous of whoever came up with Tesseracts as the name for an anthology series. It's just not fair. And since it's a series open only to Canadian F&SF then I can't ever be included, which is also unfair. But professional jealousy aside, this was one of the best Scifi anthologies I've ever read. Maybe because Canadian writers are just that good, but mostly because of the theme they chose--faith. I love elements of religion incorporated well into science fiction and fantasy. I've seen it done badly so many times, and most of the time it's simply ignored. To have story after story deal with the question of faith, belief, and religion in a believable and thought-provoking way was a breath of fresh air." -- Katie Daniels


"I have thoroughly enjoyed reading this anthology. So often, religion is treated with derision or deemed "for the other people" in speculative fiction. That's not to say there isn't some of that in this anthology, but that this anthology shows varied and complex views. It was not, as I feared it might be, one note." - J. Broin


"This book was advertised as Science Fiction and some of the stories in the anthology approach my definition of same; however, I feel that speculative, or fantasy fiction and religious discussion are closer definitions to the main theme of the anthology. Even so, I really enjoyed the stories, each leading off into separate areas for consideration relative to the theme as good anthologies will do. I was glad to have the chance to read it through the Earlier Reviewer Program on Librarything.com in return for this review. I enjoyed the work enough that I'm seeking the earlier Tesseracts anthologies to read as well, many thanks to the authors and editors." - dmclane | Mar 24, 2015


"It seems like I just started and I was reading the last story. Well picked selections that went off in all directions that were thought provoking. I will be going back to look for earlier Tesseract collections" - amazon review


"I can highly recommend getting this collection and I look forward to see what the authors within it will do in the future." - J. H. Lillevik, filmaker