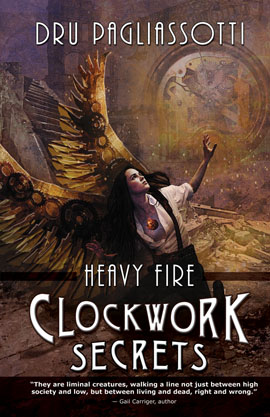 Read Chapter One (PDF)

BISAC:
FIC009000
FIC028060

PRINT BOOK:
ISBN: 978-1-77053-054-6
Trade Paperback
5.5" X 8.5"

$ 15.95
320 pages



AMAZON.COM
AMAZON.CA

E-BOOK:
e-ISBN: 978-1-77053-055-3
$5.99 US



KINDLE
KOBO
NOOK
i-TUNES (TBA)
google PLAY

Clockwork Secrets: Heavy Fire
(Book Three of the Clockwork Heart trilogy)
---

he final book in the Clockwork Heart trilogy.

Framed for regicide and trapped on a ship crippled by enemy fire, Taya and Ondiniumís diplomatic contingent seem helpless to prevent the well-engineered war their enemies have put into motion. While Alzanan and Demican armies march across Ondiniumís borders, Taya and her husband fight airborne battles from the tropical islands of the Cabisi Thassalocracy to the war-ravaged mountains of Alzana. When Taya falls into her enemyís hands, she fears that nobody will be able to save Ondinium from the devastating weapon about to be plunged into its mechanically ticking heart.
---
About the Author:
Dru Pagliassotti is a professor of communication at California Lutheran University, where she teaches media theory and practice. She published and edited The Harrow, an online literary magazine for fantasy and horror, from 1998-2009, and she currently runs The Harrow Press, which publishes horror anthologies.[MORE]
---
Praise:
"Pagliasotti has brought forth a terrific novel, one that embodies a bold new direction in the fantasy genre. For those who enjoy the work of China Mieville or D.M. Cornish..." ó Drew Bittner, SFRevu.
"Escape to the fantastic and captivating three-tiered city Pagliassotti has created. The plot is intricate and has multilayered characters who perplex, entertain, and gratify. This is a wonderfully written book ó one for the keeper shelf." ó Romantic Times
"I must say, my little steampunk heart is just thrilled with this newest offering. Itís an off-world story and the author has done a fantastic job with the worldbuilding." ó Elizabeth Headrick, BookFetish.Org
---
Books in the Trilogy:
Clockwork Secrets: Heavy Fire
---