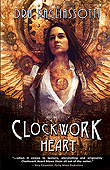 Read Chapter One (PDF)

BISAC:
FIC009520
FIC028060

PRINT BOOK:
ISBN: 9781770530263
Trade Paperback
5.5" X 8.5"

$ 15.95
320 pages



AMAZON.COM
AMAZON.CA

E-BOOK:
e-ISBN: 9781770530270
$5.99 US



KINDLE
KOBO
NOOK
i-TUNES (TBA)
google PLAY

Clockwork Heart (Book One of the Clockwork Heart trilogy)
Flight is freedom, but death hangs in the skies...
aya soars over Ondinium on metal wings. She is an icarus, a courier privileged to travel freely across the city's sectors and mingle indiscriminately amongst its castes. But even she cannot outfly the web of terrorism, loyalty, murder, and intrigue that snares her after a daring mid-air rescue. Taya finds herself entangled with the Forlore brothers, scions of an upperclass family: handsome, brilliant Alister, who sits on Ondinium's governing council and writes programs for the Great Engine; and

awkward, sharptongued Cristof, who has exiled himself from his caste and repairs clocks in the lowest sector of the city. Both hide dangerous secrets, in the city that beats to the ticking of a clockwork heart.

About the Author:

Dru Pagliassotti is a professor of communication at California Lutheran University, where she teaches media theory and practice. She published and edited The Harrow, an online literary magazine for fantasy and horror, from 1998-2009, and she currently runs The Harrow Press, which publishes horror anthologies.[MORE]
---
Praise:
"This is an excellent book, a fine example of science fiction at its best." — Jacqueline Driggers, BTS Magazine.
"...I think it a pretty clean mix of steampunk alternate (future?) world (and a beautifully well built one at that) meets light romance (don't expect nookie), meets suspenseful adventure. (To me, a distinction rather like that between paranormal romance verses Urban Fantasy, in which case this would be, decidedly, in the urban fantasy camp.) I love the concept of a heavily stratified society and the messengers (of whom our protagonist is a member) who, like Hermes, are the only ones to transition easily between the ranks. They are liminal creatures, walking a line not just between high society and low, but between living and dead, right and wrong. It makes for a fascinating read, and mystery. (Sorry about all the parenthesis.)
While this is the first of three books, this one stands alone very nicely." — Gail Carriger
"Pagliasotti has brought forth a terrific novel, one that embodies a bold new direction in the fantasy genre. For those who enjoy the work of China Mieville or D.M. Cornish..." — Drew Bittner, SFRevu.
"Escape to the fantastic and captivating three-tiered city Pagliassotti has created. The plot is intricate and has multilayered characters who perplex, entertain, and gratify. This is a wonderfully written book — one for the keeper shelf." — Romantic Times
"I must say, my little steampunk heart is just thrilled with this newest offering. It's an off-world story and the author has done a fantastic job with the worldbuilding." — Elizabeth Headrick, BookFetish.Org
---
Reviews:
---
Interviews:
---
Books in the Trilogy:
---