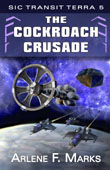 PREVIEW THE BOOK

GENRE:
Science Fiction
Action & Adventure
Space Opera


---

KINDLE
KOBO
NOOK
i-BOOK (TBA)
google PLAY



AMAZON.COM (TBA)
AMAZON.CA (TBA)
---

E-BOOK:
ISBN: 9781770531956
EPUB, MOBI
$5.99 US

Paperback:
ISBN: 9781770531963
Trade Paperback
5.5" X 8.5"
$14.95 US
$19.95 CDN
288 pages


---
BISAC:
FIC28000
FIC028010
FIC028030


The Cockroach Crusade (Sic Transit Terra Book 5)

---
Release dates:
2019-04-29 - Cover Reveal / Pre-order
2019-05-27 - Ebook Release
2019-06-10 - Amazon Book Release
2019-08-19 - Book Launch (Official)
---
The Corvou are swarming, and they're headed for Earth.
When a botched first contact at Daisy Hub results in a declaration of war against Humanity by an alien race, battle lines are drawn. Not that they're likely to be respected by an enemy determined to wipe out every Human they can find. As the Terran government scrambles to prepare for an attack they fear no one will survive, Drew Townsend and his crew of maverick geniuses set to work, trying to find a way to prevent it. Fortunately, the fiercest warriors in the galaxy will be fighting on their side. But will that be enough to save the Human race from annihilation?
---
About the Author:
Born and raised in Toronto, Arlene F. Marks began writing stories at the age of 6 and can't seem to stop. Although she's been published in multiple genres, her first love has always been speculative fiction. Her work has appeared in H.P. Lovecraft's Magazine of Horror, Onder Magazine, and Daily Science Fiction.  Her science fantasy novel, The Accidental God, was nominated for the 2015 Stephen Leacock Medal for Humour. Arlene lives with her husband on Nottawasaga Bay but spends an inordinate amount of time in the Sic Transit Terra universe. [MORE]
---
Praise:
"THE COCKROACH CRUSADE is an even faster, wilder ride than its predecessor novels in the Sic Transit Terra series. I loved it, and if space opera fills you with awe and wonder, you will too! Some tales are sheer FUN, and this is one of them!" - Ed Greenwood, award-winning creator of the bestselling Forgotten Realms setting
---
Books in the Six Part Sic Transit Terra Universe series: