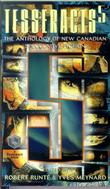 BISAC:
FIC009530
FIC028510
FIC015010

PRINT BOOK:
ISBN: 978-1-895836-25-7
Paperback
4.25" X 7.00"

$8.95 US
352 pages



AMAZON.COM
AMAZON.CA

PRINT BOOK:
ISBN: 978-1-895836-26-4
Hard Cover
4.5" X 7.5"

$21.95 US
352 pages

AMAZON.COM
AMAZON.CA


Tesseracts5
Award-winning anthology...
Explore strange new realities on the edge of the imagination, in Tesseracts5 the fifth volume of the award-winning anthology of Canadian speculative fiction.
Authors featured in this volume:
Sally McBride, Jan Lars Jensen, Francine Pelletier, Dale Sproule, Elizabeth Vonarburg, Marlene Dean, Sansoucy Kathenor, Andrew Weiner, Cliff Burns, Jean-Louis Trudel, Candas Jane Dorsey, Sandra Kasturi, Keith Scott, Tracey Halford, Michel Martic, Michael Coney, Ian Driscoll, James Alan Gardner, Jocko, Peter Such, Karl Schroeder, Paul Stockton, Eileen Kernaghan, Annick Perrot-Bishop, David Nickle, Daniel Sernine, Sandra Kasturi, Peter Watts, Choo, Natasha Beaulieu, Heather Fraser, and John Park.
About the editors:
Robert Runté
Robert Runté is an editor and critic specializing in speculative fiction. He contributed the essay on 'Science Fiction and Fantasy' to The Encyclopedia of Literature in Canada, and has served as editor, for many years, for New Canadian Fandom, the first Canadian national SF newsletter. He won Aurora Awards in 1989 and 1990 for his contributions to Canadian SF and was Fan Guest of Honour at ConAdian, the 52nd World Science Fiction Convention. He is currently an Associate Professor in the Faculty of Education at the University of Lethbridge. [MORE]

Yves Meynard
Yves Meynard is a five time Aurora Award winner, and has received the Prix Boréal four times. In 1994 he also received the Grand prix de la science-fiction et du fantastique québécois. His stories have appeared in numerous English-language magazines in Canada and his novel, The Book of Knights, was published by Tor in 1998. Yves currently lives in Montreal, where he works as an anthropologist and editor. [MORE]
---
About the Series:

---
Praise:
"A provocative, exciting and extraordinarily varied exercise in what could be described as the mind's fourth dimension — imagination" — The Toronto Star