Righteous Anger (Part Two of the Okal Rel Saga)



In the OKAL REL UNIVERSE...

Righteous Anger is about Horth Nersal — the child of a marriage between enemies undertaken to end a war. The fighting did stop but the war of ideology continued with sometimes lethfal results for loved ones on both sides. Horth, a gifted warrior in space and on the challenge floor, where his culture settles differences among themselves, struggles against a language impairment to navigate the moral and martial currents of his upbringing. At the crucial hour, he will make a painful choice – the results of which the future of nations will depend." - Lynda Williams in response to the question, "What is Righteous Anger about?"

The amazing world of the OKAL REL UNIVERSE is an SF phenomenon that is spreading throughout North America and the world. Created by author Lynda Williams, the UNIVERSE has become much more than a place to host a series of books; it has become a subculture where "Friends outside of the Okal Rel Universe" have begun to embrace Lynda's characters and concepts.

Righteous Anger is the long awaited second novel in this saga. It follows The Courtesan Prince (Book One in the series) and expands the reader's understanding of the highly intricate worlds where Reetions and Sevolites rule.

About Lynda Williams

Lynda Williams, teaches computer literacy at the University of Northern BC and holds an M.L.S. from the University of Toronto and a M.Sc. from McMaster. She was born in Prince George, British Columbia and graduated from the University of Victoria with an emphasis in Chemistry and Creative Writing. She currently lives in British Columbia, Canada. [MORE]
---
BOOKWORLD Magazine: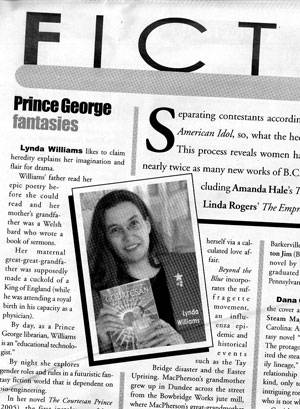 Spotlight on Lynda Williams
---
Praise:
"Plenty of action with great world building and well-written characters. This one is a keeper. And made me want more of the Okal Rel universe." - Pam Allan, ConNotations Magazine
Righteous Anger

Righteous Anger by Lynda Williams is a finalist for the 2007 Aurora Award for Best Long-Form Work in English.
"Williams builds a very deep universe that could easily be off-putting in its level of detail, but it is so populated with interesting characters and moves along so breezily that the only problem might be keeping track of all the threads.&quot - Lisa Martincik, VOYA Magazine
Lynda Williams' books Righteous Anger has appeared in California Bookwatch on the Fantasy/Science Fiction Shelf. California Bookwatch is an offshoot of Midwest Book Review that has a complete listing of science fiction novels that are available to the public.
The DRAGON PAGE (Cover to Cover #271) podcast interview with Lynda Williams. Lynda's interview starts at 35:40.
"The book is detailed, especially in the description of the many duels and the sword-play. The story takes place on different worlds and in the depths of space. The author deals with everything from race relations and xenophobia to the early sexual maturity of a genetically enhanced youth whose passions come to play much earlier than one would anticipate. We have feuding factions, politics, power plays, religion and tribal warfare taken to a galactic level. ... Recommended.&quot - Ronald Hore, CM Magazine
"The Okal Rel Saga is culturally complex and politically tangled, an epic tale of clashing civilizations and worldviews. Righteous Anger follows the making of a military hero, Horth Nersal, and is a strong, highly readable installment to this ambitious and far-reaching space opera.&quot - Dru Pagliassotti, The Harrow
"Righteous Anger takes the reader on an exciting and captivating journey following the lives and political challenges of each member of the Nersal family. Once again I was very appreciative of the depth of the characters and found myself stealing moments to learn more about their struggles and ultimately the life rendering decisions each would make. The turmoil of the characters corresponds with the political turmoil between the two civilizations and builds to an explosive climax that would be difficult for any reader to anticipate or deny.&quot - T.M. Martin, Yet Another Book Review
"Righteous Anger fits well with the other Okal Rel novels The Courtesan Prince, Part One and Throne Price, Part Four. I find myself hoping that part three of the Okal Rel series will be out in print soon, because I find myself desperately wanting more pages from Lynda Williams." - Stephanie Ann Johanson, Neo Opsis
"An inarticulate youth with a decidedly dark attitude and a quick sword hand, Sevolite Horth Nersal is the centerpiece of Lynda Williams' RIGHTEOUSANGER.... Williams effectively displays the internal conflicts of Horth and her other major players, while providing readers with the visual feast of the Okal Rel in its starry splendor.... Despite numerous unique, coined terms, whoever enjoys excellent use of the English language will be more than satisfied. And, although morally mature, the series is quite popular with the younger set, who can definitely identify with dilemmas faced by heroes like Horth." - Anne M Stickel, Black Petals
"Perhaps Williams' greatest strength in Righteous Anger is her ability to truly portray characters from inside their own psyches, without sounding too narrative. ...the reader comes to understand that Okal Rel is much more than 'another fictional space-universe'. It becomes real." - J. Bell "cenobyte", amazon.com
"A well-crafted blend of swashbuckling fantasy and high-tech science fiction, this book is filled with action and drama..." - Nathalie Mallet, amazon.com
"Williams creates a multi-layered culture that is detailed and compelling.... There is a lot going on in this novel and series; it is a gratifying read for its intellectual engagement." - Robert Budde, amazon.com
"Williams writes character driven books. Her characters are three-dimensional, human and believable.... Williams is good at her craft. The book is well worth reading." - Neil Lettinga, amazon.ca
"I thoroughly enjoyed this book and was completely immersed in the Okal Rel universe..." - Ky Leischner, amazon.ca
"The world of Okal Rel ia a visually rich, politically driven, philosophically phrased, scientifically sound portrait of what could become of our wounded world." - Elizabeth Woods, amazon.ca
"I got RA in the UNBC bookstore saturday. I'd finished it by sunday night, even with eating, sleeping, visiting the beach, playing rugby, and another book for a mental break halfway through. Maybe a total of four hours. It was goooooood! I loved it!&quot - Lisa O., ORU First Expansion member
"... just re-read [Righteous Anger], it's superb!" - Kathy Plett
"I'd never heard a podcast before (not owning an ipod, I listened on my PC). After hearing your interview on "dragonpage" I'm more impressed with you -- and EDGE -- than ever. Liked what you had to say." - Anne M Stickel
---
Reviews:
ConNotations Magazine
VOYA Magazine
DRAGON PAGE Podcast(Cover to Cover show #271)
Yet Another Book Review
The Prince George Free Press
Neo-Opsis Magazine
Black Petals Magazine
---
Books in this series: