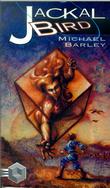 BISAC:
FIC028000

PRINT BOOK:
ISBN: 978-1-895836-07-3
Paperback
4.25" X 7.0"

$8.95 US
298 pages



AMAZON.COM
AMAZON.CA

PRINT BOOK:
ISBN: 978-1-895836-11-0
Hard Cover
4.5" X 7.25"

$16.95 US
298 pages


AMAZON.COM
AMAZON.CA
Jackal Bird
Survival is the most dangerous game of all...
Jackal Bird follows the terraforming and political evolution of the colony world of Isurus, also called "New Foster", where the colonist's children play a dangerous game designed to indoctrinate them into an adult life of revolution, political turmoil and cultural upheaval. Intrigue, conflict, and intricate maneuvering are the norms on a world where control means everything, and survival is the most dangerous game of all.
About Michael Barley
Michael Barley was born in England, and his family came to Canada in 1948. He is an architect, and has always enjoyed writing. His books include 'Jackal Bird', 'Seven Days In December' (a group effort - he is one of four authors) and 'Northline' - a dystopian novel about a special type of train.
Michael and his wife have several children, as well as numerous grandchildren. [MORE]
---
Praise
"As richly evocative and endlessly inventive as anything by Ursula K. LeGuin..." — Spider Robinson