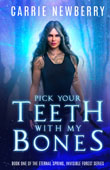 PREVIEW THE BOOK

GENRE:
Urban Fantasy
Dark Fantasy
Contemporary
Paranormal


---

KINDLE
KOBO
NOOK
iTUNES (TBA)
google PLAY

---
AMAZON.COM
AMAZON.CA
---

E-BOOK:
ISBN: 9781770531543
EPUB, MOBI
$5.99 US

Paperback:
ISBN: 9781770531666
Trade Paperback
5.5" X 8.5"
$15.95 US
$19.95 CDN
328 pages


---
BISAC:
FIC009060
FIC009070
FIC009010
FIC009050


Pick Your Teeth with my Bones
(Book one of the Eternal Spring, Invisible Forest series)

---
She has a tail. Normal is relative.
Kellan is a shape-shifter and a member of a secret society, the Sankhain, who protect a fountain of youth hidden in an invisible forest outside Madison, Wisconsin. When a stranger asks Kellan for her help with some documents, documents which shouldnít exist, about the Sankhain, Kellan uses her unique sense of smell to follow the trail, which leads to the very heart of the Sankhain. What Kellan uncovers will shake her world to its core.
---
About the Author:
Carrie Newberry is a writer of urban fantasy, horror, and a little bit of everything else, as well as a faculty member at AllWriters' Workplace and Workshop.
After studying Creative Writing at UW-Madison and after maxing out on Creative Writing Workshops at UW-Madison, she decided to leave academia behind and pursue a career in dog grooming - which leaves her with lots of time to write.
Carrie is an active member of the AllWriterís Saturday morning New Yearís Resolution Write a Book Workshop and currently lives in Madison with two rescued mutts and an enormous collection of books. Pick Your Teeth with my Bones is her first novel, and she is hard at work writing Kellanís next adventure. [MORE]
---


Welcome to PICK YOUR TEETH WITH MY BONES by Carrie Newberry
---


A Reading from PICK YOUR TEETH WITH MY BONES by Carrie Newberry
---
"The main element of my book that sets it apart from the others in the genre is Kellan herself. The combination of humor, deep flaws and brutal honesty make her utterly unique, and her desire for connection makes her compellingly vulnerable. Readers wonít be able to look away." - Carrie Newberry
---
Praise:
"Ever meet a smart-ass shape-shifter with a soft heart and an angry soul? Say hello to Kellan and a great cast of supporting characters, like a hunky man who goes jogging in hiking boots, a soft-spoken freaked-out librarian, and an exasperated wizard who won't use contractions. Pick Your Teeth with my Bones is an action-packed, emotion-packed rock-your-world tale that will have you up all night and hiding from your boss during the day so you can turn page after page." - Kathie Giorgio, In Grace's Time and Rise From The River
"Do you ever wonder what magic dwells among us? Witty and fun, yet full of grit and action packed, Pick Your Teeth with my Bones will take you on a fast-paced, high-stakes journey through a side of our world you never knew existed, but always wanted. Kellan Faolanni will win you over with her strength, doggedness and wry sense of humor, all of which serve her well in the face of the evil and deception pitted against her." - Summer Hanford, Author of the Thrice Born series
"This is a fantasy book for people who love literary fiction. The story is by turns edgy, exciting, humorous, profound, and touching, with a large dollop of sexual tension and just a tiny bit of romance. The outstanding plot has unexpected twists that keep the story and the reader moving at breakneck speed. Fast-paced, forceful and witty dialogue help create characters who are strong, compelling, flawed, and real. Kellan, a two hundred year old wolf, is a member of the secret Sankhain society, who protect a fountain of youth in an invisible forest. The world she takes us through is so well-drawn and developed that we donít doubt its existence for a minute. This is truly a captivating read. Iím hoping for a sequel." - Alice Benson, Author of Her Life is Showing
---
Reviews:
ďIt's been a long time since I've felt the urge to post a review for a book, but this book definitely deserves it. I loved it, the main character was entertaining and original she wasn't just a repeat of the typical boring fantasy heroine and I loved her relationship with Tony. The story was a bit predictable at times but i still really enjoyed it and the world that Newberry has created, I can't wait to read the next book in this series thereís still a lot more that could be explored." Ms L. Hallam
"Pick Your Teeth with my Bones is the first in a new urban fantasy series. Kellan is a shape-shifter and a member of the Sankhain, a secret group of warriors who guard a fountain of youth hidden in an invisible forest. Kellan works as a dog walker in a city near the forest. She uses her ability to communicate with dogs to keep an eye open for potential trouble for the Sankhain. One day while she is walking one of her clients, a stranger approaches her with documents in the ancient language of the Sankhain which shouldnít exist. Using her sense of smell, sense of humour and sense of honour, Kellan follows the trail to uncover a mystery that makes her doubt everything she knows. Kellan is an interesting character. She is tough and brave but also vulnerable and unsure. The other characters in the book are well developed as well. The author has a different take on vampires, called Nocturnes, who feed on negative emotions. I would have liked more details about the Nocturnes and how they are created. I would have also liked more details about the Sankhain and what their purpose was besides guarding the fountain. They seemed rather morally ambivalent to me and it was hard to be invested in their survival when I wasnít sure what they actually did. I also found the supposedly ancient and wise characters making rather stupid choices a bit hard to believe. This was a promising start to a new series. The plot moves quickly and the story is full of action and humour. There is even a bit of romance. I would have liked the world-building to be fleshed out a bit more, but I would be interesting in reading a sequel." - Carod
"This book was so enjoyable! I found it to be very engaging and written in a way that sucked me right into the story. The plot developed very nicely, and the character progression was great too. I loved the author's detailed descriptions of scent used throughout the book. It brought about a different sort of sensory perception that I found very neat. I will absolutely read this book again & look forward to reading about Kellan's next adventure." - Em
"Urban Fantasy is my favorite genre and this new author is a force to be reckoned with in this category! I absolutely love this book and i hope it is the beginning of a very long series! Sarcastic, snarky, badass Kellan is a main character I absolutely love. SHe isn't perfect, rather flawed like we all are. She is someone most of us can relate to. She believes in love and loyalty. She (mostly) follows the rules. But lately, she goes with her gut. Oh, and did I mention she is a shape-shifter? This book has so much going on, there isn't a moment of boredom. And twists and turns worthy of the best roller-coaster. The only thing I would like to see is more of her wolf side. The abilities she has from being a shifter are prominent, but she only shifts a few times, and that's mainly to rest. There is definitely more to this side of her. Given that, this is still a great book. I was extremely pleasantly surprised at just how good it really was. It was obviously well thought-out and and author is a born storyteller please give me more!!!!" - ERIN E WOLF
"The main character, McDonald's-loving Kellan has many touching and endearing qualities except she's not human. Battling her way through a quirky adventure this novel keeps the reader entranced with its unexpected twists. I look forward to the second installment of this wonderful work." - ELEANOR ADAMS
"A great story with guardians, shapeshifters, sarcasm, personal growth and heartache. The story line is fast paced and full of action. You can't help but get involved with Kellan/Kelly's life and want to fight beside her. There were a few issues that were never explained but hopefully in the next book. Can't wait to read it!" - MnMlove
"I read a lot, but rarely fantasy. Then I heard Carrie Newberry read a piece of her nonfiction and decided to read her book. WOW! A shapeshifter whoís centuries old and is messed up emotionally comes across as normal as you and I sitting down at a coffee shop. Normal is relative, which the reader quickly grasps in this fast-paced, exciting book whose characters are well developed and have all kinds of unique quirks, attitudes, and psychological hang-ups from parenting, childhood and lifeójust like most of us, or at least me. Danger and mystery abound. As does suspense of all kindsówill Kellan and super-hunk Tony ever get it on? Plus, Kellan, as part wolf, identifies much of her experiences through her sense of smell which adds a tremendous element to the book. The fantasy elements blend seamlessly with reality (maybe thatís not unusual considering the setting is Madison, Wisconsin, one of my favorite places) and provide a book that is hard to put down. It left me panting, or salivating, for the next one. Buy it! Read it! You wonít regret it!" - Bill
"Very entertaining. Characters are well developed. Story has good versus evil and with a solid story line. Left me wondering what will happen me next. Can't wait for the next installment." - suzie60
"Loved this book, wonderfully written. I can't wait for the next book." - Liza M Maas
"This is the first in a new urban fantasy series, it has humor, suspense, and tragedy, in a story that moves along at a rapid fire pace. The world building is on point as well as the character development. Great introduction to the world of the Sankhain society, who are supernatural protectors of the Eternal Spring, which just happens to be located in a forest near a major city. The society is full of rules and order enacted to keep the compound safe and Kellen who is undercover as a dog walker, seems to have problems with both. Plenty of twists to the plot line to keep it moving along. Can't wait for the next book the series to learn more about Kellen and Galen and the rest of the Sankhain." - Alleighkat
"Pick Your Teeth with my Bones is the incredible start of a series I didnít know I needed. Magic and supernatural elements? Check. A strong female protagonist whoís flawed but still likable? Check. Undercurrents of sexual tension and hinted romance without a love story taking over the entire plot? Check. A thread of mystery and intrigue amid total badassery? Check. Kept me completely engrossed and left me begging for more? Check! Itís so refreshing to read a mature supernatural book with actual adult characters that isnít just a trashy romance novel thinly veiled in magic and action (no offense to trashy romance novels - everything has its place!). This book is well written, both grammatically and plot-wise. The characters, while being otherworldly, are very real. Kellan is a mess, but the writing / character building of her is not. Sheís wonderfully complicated, insecure, angry, out of touch with her emotions, awkward, hilarious, and tough. In Kellanís own words, sheís a complete bitch. So why do I love her so much? Iím definitely hooked on this story, and I feel like I left a part of myself behind in the Invisible Forest when I finished the book. I canít wait for the next novel of this series to be released, so I can continue living in this world!" - Rachel
"I loved this book! Carrie Newberry creates a new world inside our own with beautifully complex characters. I couldn't put it down, and can't wait until the next book! - Amazon Customer
"Great fantasy book. The story is by turns edgy, exciting, humorous, profound, and touching, with a large dollop of sexual tension and just a tiny bit of romance. The world she takes us through is so well-drawn and developed that we donít doubt its existence for a minute. This is truly a captivating read. I can't wait for the next book in the series." - Deborah L Wyatt
"Pick Your Teeth with my Bones is a fantastic novel. From the start, it was hard to put down, and I wound up reading the second half of the story in one sitting--much to the neglect of my visiting family! Not only has Carrie Newberry delivered excellent suspense and humor, she's also brought to life a compelling set of characters, including Galen, the dog. I particularly liked the extra sensory detail and understanding we get from her descriptions of the canine sense of smell and attention to dominance. I can't wait for more!" = Caroline Bridges
"What a great novel! Not your usual fantasy. Itís not exactly Young Adult, due to language and some violence, but it doesnít go too far into adult themes either. The author does an incredible job of seamlessly incorporating humor, fear, confusion, anger, desire, and many more emotions without betraying the authenticity of her characters. I whole heartedly recommend this novel to all fantasy lovers, except for the very young." - Salsa133
---