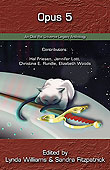 BISAC:
FIC028030

PRINT BOOK:
ISBN: 978-1-77053-018-8
Trade Paperback
5.5" X 8.5"

$ 9.95
86 pages



AMAZON.COM
AMAZON.CA (TBA)

E-BOOK:
e-ISBN: 978-1-77053-019-5
$1.99 US



KINDLE
NOOK (TBA)
i-Pad (TBA)
KOBO
SONY READER (TBA)

E-BOOK (multi-format):
SMASHWORDS

Opus 5 (An Okal Rel Universe Legacy Anthology)
Sandra Fitzpatrick provided the idea for Opus 5 when she wondered what impact Reetion cats would have on the Gelack court after Horth scores a bunch of them, in trade, at the end of Part 5: Far Arena, in the Okal Rel Saga. Cats have long been extinct in the Sevolite Empire, so the new arrivals would be high status possessions. But as prospective authors discussed possibilities, variations from other times began to arise. There have always been cats on the empire side of the universe after all, just tightly controlled by the Lorels who would sell only non-breeding specimens. The resulting anthology is a romp through history by authors Hal Friesen, Jennifer Lott, Christina Rundle and Elizabeth Woods, connected by the presence in the story of a cat. Meoww.
Opus 5 includes stories by:
Hal Friesen
Jennifer Lott
Christina Rundle
Elizabeth Woods
---
About the editors:
Lynda Williams teaches computer literacy at the University of Northern BC and holds an M.L.S. from the University of Toronto and a M.Sc. from McMaster. She was born in Prince George, British Columbia and graduated from the University of Victoria with an emphasis in Chemistry and Creative Writing. She currently lives in British Columbia, Canada.
Lynda's ten book series set in the Okal Rel Universe is published by Edge Science Fiction and Fantasy. Recurring themes of the series center around culture conflict and the moral and social impacts of radical changes in technology, including re-written rules of gender relations as a consequence of bio-engineering. [MORE]
Sandra Fitzpatrick lives in Calgary, Alberta, where she met Lynda Williams at Conversion Science Fiction conventions and got onboard with editing the Opus 5 anthology. A member of the Imaginative Fiction Writer's Association, she contributed the story "Return" to Opus 2. A former biochemistry technician, Sandra now works in financial advising. She was born in Rhode Island and moved to Calgaqry in 1981 after meeting her best friend and future husband, Gary Renshaw, at the 1980 World Con in Boston. [MORE]
---
Imprint: Absolute XPress