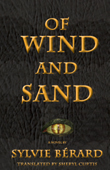 Prolog Sampler (PDF)

BISAC:
FIC028000

PRINT BOOK:
ISBN: 978-1-894063-19-7
Trade Paperback
5.5" X 8.5"

$15.95 US
320 pages



AMAZON.COM
AMAZON.CA

E-BOOK:
ISBN: 978-1-894817-65-3
$2.99 US



KINDLE
NOOK (TBA)
i-Pad (TBA)
KOBO
SONY READER (TBA)

E-BOOK (multi-format):
SMASHWORDS (TBA)

Award winning novel (translated from French)
When two cultures clash...
After leaving Earth, a human colony starts a new life on a planet they have baptised Mars II — currently occupied by the Darztls, a highly intelligent indiginous race of lizards. Although initial attempts are made to tolerate each others' presence, both races quickly move toward mutual disdain, distrust and finally, acts of violence.
About Sylvie Bérard
Sylvie Bérard was born in Montreal in 1965. Attaining a Doctorate in Semiology, she has been teaching Quebec Literature for a few years at Trent University in Peterborough (Ontario). She is a Lettres Québécoises (literary magazine) contributor and a member of the editorial collective of the journal XYZ. Sylvie Berard has published short stories in numerous anthologies and literary journals — Moebius, ASFFQ, Solaris, and Tesseract — as well as written many articles on science fiction. The French version, Terre des Autres, won the Grand Prix in 2005 science-fiction and fantasy in Quebec, the Boréal Award in 2005 and the Radio-Canada Readers Award or, in French, Prix des Lecteurs de Radio-Canada, in 2006. [MORE]
---
Translated from the French edition, Terre des Autres, by Sheryl Curtis.
---
Praise:
"Well-written, the story will appear to the reader of science fiction as well as students of history, colonialism, and race relations. A gripping tale of the shock and misunderstandings arising when two very different cultures clash." — Ronald Hore, CM Magazine
"I loved reading this in its original French version.... It is not written in the typical linear fashion that most of us are used to.... A must-read also for the interesting literary devices she uses." — tboyjacky, wordpress