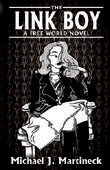 PREVIEW THE BOOK

GENRE:
Science Fiction
Mystery & Detective


---
KINDLE
KOBO
NOOK
i-BOOK
Google PLAY
---
AMAZON.COM
AMAZON.CA
---

E-BOOK:
ISBN: 9781770531499
EPUB, MOBI
$5.99 US

Paperback:
ISBN: 9781770531505
Trade Paperback
5.5" X 8.5"
$14.95 US
$19.95 CDN
264 pages


---
BISAC:
FIC028000
FIC022000


The Link Boy : A Free World Novel
---
Our post-government future has no laws,
but plenty of right and wrong.
An assassin, a priest and a schoolteacher walk into a secret nuclear power plant – to Edwin McCallum, detective by trade and artist by desire – there's something wrong with this picture. He's going to figure out what it is if it kills him. The Link Boy is the second novel set in the Free World, a post-government future, where there are no laws. Just bottom lines.
---
About the Author:
Michael J. Martineck started writing stories when he was seven. Over the years he's written short stories, comic book scripts, articles and novels.
Michael's last novel - The Milkman, a murder mystery set in a world with no governments – won a gold medal from the Independent Publisher Book Awards and was a finalist in the Eric Hoffer awards, given for salient writing from small presses. His previous novel, Cinco de Mayo, was a finalist for an Alberta Reader's Choice Award. He has written for DC Comics, several magazines (fiction and non-fiction) the Urban Green Man anthology and two urban fantasy novels for young readers. Michael has a degree in English and Economics, but has worked in advertising for several years. He lives with his wife and two children on Grand Island, NY. [MORE]
---
Reviews:
"The Link Boy is a brilliant story which shows an increased depth and confidence to Martineck's writing. Always a good storyteller, Martineck has mastered his craft in this science fiction/mystery novel. The Link Boy takes place in the same dystopian setting as The Milkman--a near future in which corporations have taken over the role of governments--only here it is fleshed out in more ominous depth and detail. ... Martineck deftly keeps his readers guessing as he builds to a conclusion that is unexpected but entirely true to the story and therefor is both satisfying and realistic. I highly recommend this book and can't wait to read the next one!" - J. A. McLachlan
"This was a fun, fast-paced read. The world, a time/place where capitalism has gone to its most absurd conclusion, is fascinating and Martineck gives you just enough to keep you wanting more." - Jennifer Cornish
---
Books by Michael J. Martineck:
The Link Boy: A Freeworld Novel
---