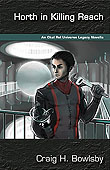 BISAC:
FIC028030

PRINT BOOK:
ISBN: 978-1-894817-45-5
Trade Paperback
5.5" X 8.5"

$ 8.95
92 pages



AMAZON.COM
AMAZON.CA (TBA)

E-BOOK:
e-ISBN: 978-1-894817-46-2
$1.99 US



KINDLE
NOOK (TBA)
i-Pad (TBA)
KOBO
SONY READER (TBA)

E-BOOK (multi-format):
SMASHWORDS

Horth in Killing Reach (An Okal Rel Universe Legacy Novella)
Stationed in a neglected area of space known as Killing Reach, Horth Nersal, a verbally challenged master swordsman, is beset with problems which threaten to end his career on the battle-wheel Avenger.
As an officer he must prove to Liege Bryllit that he is worthy of responsibility and promotion.
But Horthís own straight-forward approach, sense of honor and naivete seem only to entangle him in the designs of others.
---
About Craig Bowlsby:
Craig H. Bowlsby has been wielding both pen and sword for many years. Five times Western Canadian Foil champion, a former member of the Canadian National Fencing Squad, he now teaches fencing at La Salle, in Vancouver.
Craig has worked as Swordmaster or Sword Double on several Vancouver shot productions. He has written many plays, including one produced by Vagabond theatre in New Westminster: Mutiny On the Minsk. He has been a panellist at previous Vcons, and Cascadiacon. His short story, The Number Three Blade, introduced Horthís first fencing experiences at the age of four, in the Okal Rel Anthology Opus Two. Craig wrote and produced the comedy sci-fi television show, Commanderís Log, which was shown on the Space Channel, in 2004. Among many other things Craig also wrote The Knights of Winter, a history of hockey in British Columbia from, 1895 to 1911, available through Chapters. [MORE]
---
Imprint: Absolute XPress