Druids (Part One of the Druids series)

---
The DRUIDS Saga begins...
For over 1000 years, Celts rule Europe. The most revered are the Druids: bards, healers, judges, and seers. A special few protect the secrets of ancient Earth magic, including a healer from Iberia, and a seer from Belgica.
Rhonwen, the healer, keeps the Druidic culture and practises alive in a land ravaged by a Roman civil war. Sworn by her Mother to a blood oath of vengeance, she must choose between fulfilling the promise or following her own heart`s path.
Mallec, the seer, is sent from his warrior tribe to the center of druidic learning to become a scholar. His training does not prepare him for an unexpected discovery of an ancient rite for immortality. Once mastered, Mallec must protect the knowledge from those who thirst for its power and are bent on his destruction.
Seemingly separate paths, entwined by dreams and destiny, the DRUIDS saga unfolds.
About Barbara Galler-Smith
Author Barb Galler-Smith resides in Edmonton with her fabulously supportive husband, John, and two Yorkies. She's a member of Edmonton's Cult of Pain writers group, and mentors a group of emerging writers called "the Scruffies". Barb is also an editor of OnSpec magazine. [MORE]
About Josh Langston
A graduate of Georgia State University with a degree in Journalism, Josh's writing tastes quickly shifted away from non-fiction. His short stories have been published in a variety of magazines and anthologies. When not writing fiction Josh develops multi-media presentations about Georgia's past for historical societies around the state. [MORE]
---
Praise for DRUIDS, Book One in The Druids' Saga
"DRUIDS is a very fine fantasy novel that cries out for a sequel." — Mike Resnick, Hugo and Nebula winner
"Josh Langston and Barbara Galler-Smith have written a magnificent epic — richly detailed, exciting, dramatic, and compelling. This is the debut of a major writing team; don't miss it." — Robert J. Sawyer, Hugo Award-winning author of "Hominids"
"...epic tale of love, loss and betrayal." — Bitten by Books
"This is such a terrific book! It combines historical fiction with fantasy to deliver a spellbinding story of love, war, revenge, and magic. I couldn't put it down!" — Shelfari

---
Reviews:
Bitten By Books
J.Y.T. Kennedy
Prarie Books NOW
SF-Fandom
Speculative Fiction Examiner
---
Barbara Galler-Smith
and Josh Langston
Interview




[Click Play to listen to the interview]
Barbara
Galler-Smith
Interview on CKUA Radio.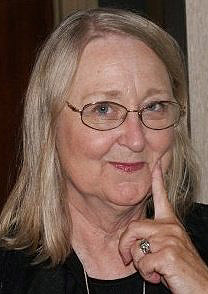 [Click Play to listen to the interview]
---
Books in this series: