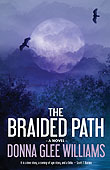 PREVIEW THE BOOK

GENRE:
Fantasy


---
KINDLE
KOBO
NOOK
i-BOOK
google PLAY
AMAZON.COM
AMAZON.CA
---

E-BOOK:
ISBN: 9781770530591
EPUB, MOBI
$4.99 US

Paperback:
ISBN: 9781770530584
Trade Paperback
5.5" X 8.5"
$14.95 US
$19.95 CDN
224 pages


---
BISAC:
FIC009000


The Braided Path
---
On the slopes of a vertical land where peopleís lives are bounded by how high and low they are able walk on the single path that connects their world, the young widow Len Rope-Maker watches as years go by and her son Cam never finds his limits. Long past the time when other youths in Home Village have found their boundaries, Cam keeps climbing higher and lower, pushing on with his sweetheart Fox who also shows signs of being a Far-Walker. But Camís drive to venture far nudges him towards the top of the world, while Foxís sends her downward, toward the mythical sea at the bottom of all things. Both are true to their own heartís calling.
"The Braided Path is set in a world which is not this one (but is like this one in some ways), in a culture which is not modernity, and in a world where the laws of nature are basically the same as in our waking world, i.e., there are no vampires, zombies, werewolves, princes, swords, dragons, wizards, or any magic at all, really, except for the alchemy of love." - Donna Glee Williams
---
Welcome:
---
INTERIEWS:
REVIEWS:
"Donna Glee Williams creates an odd, vertical world that none of us has ever seen before and fills it with vivid, subtle characters and situations that we recognize, if not from our waking lives, then certainly from our dreams...." — Jeremey Taylor, Psychological Perspectives READ MORE
"A book that takes you on a journey on a single path and what should happen if you were to step off that path. I enjoyed this book as a really pleasant read and was disappointed when it ended. I loved the authors descriptive prose which really brought her characters to life." — Marie Catlin, Library Thing READ MORE
"Love it. The story itself is pretty simple - travelers traveling, to new places - but the viewpoints make it fascinating." — Jennifer McGaffey, Library Thing READ MORE
"In this, Donna Glee Williamsí first novel, the Balsam author writes about Len Rope-Maker and her son Cam as they venture far from home but, in the process, end up growing closer together." — The Laurel Of Asheville READ MORE
"The Braided Path is what we might call a gentle fantasy. The story takes place in a world slightly different from ours but without such fantasy elements as magic, witches, wizards, talking animals, and other phenomena that supersede the laws of nature." — Karen Ashley Greenstone, reviewer READ MORE
"This is a book that manages to build a intriguing world in just the first 50 pages. The early events in the plot leave you with a sense of closure by the end of the fourth chapter. I kept thinking, ďThat was very satisfying, but what comes next?Ē The answer was SO MUCH." — Paul Cancellieri, reviewer READ MORE
"This is the perfect book to read on a sunny day with the heat on your back. Not because a thunderhead would frighten you--it is not that kind of book--but because it is a sunny kind of book. The kind that makes you glad you read it, the day a little brighter." — Scott T. Barnes, reviewer READ MORE
"...Williams achieves an authentic voice with consistent flow and subtle yet substantive imagery. The readerís investment is secured and the compelling nature of the work really begins to factor into the pace of the reading." — Jay Joslin, reviewer READ MORE
---
GOODREADS REVIEWS: READ MORE
---
LIBRARY THING REVIEWS: READ MORE
---
PRAISE:
"The theme of interconnectedness alluded to in the title is deftly woven through William's novel in lovely, poetic language that will astound and delight the reader. Through close glimpses and carefully chosen details, Williams breathes life and depth into the vertical world of The Braided Path. A must read!" — Stella Michel, retired librarian
"Williams employs the lyrical prose of a fable to describe her "wall of the world," a setting as fresh and inventive as Larry Nivenís Ringworld. Her novel takes us on a journey into the imagination, yet her characters struggle with real human predicaments. A vivid, satisfying story from beginning to end." — M. M.Buckner, award-winning author of The Gravity Pilot
"This rich and beautiful tale of a ropemaker and her family twines the quest for self-knowledge and the need for love into a moving tapestry full of wonders and fiber arts!... The Braided Path presents strong, engaging characters in an unusual world full of well-realized details, especially graceful depictions of craftsmen at work. Along the way, Williams explores almost every aspect of fiber, from spinning, twining, dyeing and weaving, to retting linen, plying cord, testing fiber strengths, and constructing nets and hammocks. These details are never intrusive, but rather reveal layers within her world, and explore metaphors for relationships among the characters." — Elaine Isaak, author of The Singer's Crown, The Eunuch's Heir, and The Bastard Queen/
"The Braided Path is a quiet book, full of good characters trying to discover their path. In fact, the metaphor of the path runs throughout the book. The path, the rope, the braids that bind individuals together into couples and couples together into communities. It is a love story, a coming of age story, and a fable. Mostly it is about characters seeking their place in their world." — Scott T. Barnes, winner Writers of the Future, editor New Myths online magazine
"Donna Glee Williams' luminous debut novel, The Braided Path, invites readers to travel with Len Rope-Maker, her son Cam, and his sweetheart Fox as they set out on a path that will lead them further from home and yet closer to each other. In this tale of a utopian craft society whose inhabitants are named, defined by, and relied upon for their gifts, the power and necessity of community and collaboration are beautifully rendered. Williams' lyrical, earthy prose and sensitive characterization wove a spell that transported me to this world and brought it to life." — Pamela Duncan, author of Moon Women, Plant Life, and The Big Beautiful.
"The novel The Braided Path is a gorgeously written novel about learning to recognize your limits, break them when necessary and live the fullest life possible on your own path. Itís an impactful allegory on the circle of life, the routes we choose and the relationships we weave - written in a fable-like fashion that resonates with the reader for days after completing it. I loved it!
If you enjoyed "The Cleft" by Doris Lessing, "The Ocean at the End of the Lane" by Neil Gaiman or "The Alchemist" by Paulo Coelho, you will probably enjoy "The Braided Path" by Donna Glee Williams just as much." — Stacey Kondla
---
About Donna Glee Williams:
When I think of trying to tell you who I am, the very first thing that comes to mind is to tell you where I've been: Mexico (my birthplace), Louisiana (my heart-home), the mountains of North Carolina (where I live now), Canada (where the spaces still are big), Texas (my fatherís root-place), Kentucky (my motherís), Turkey (where I chased after Rumi), Ireland and Scotland (of the misty Celtic mysteries), Pakistan and India (Big Adventures), France, Spain and Italy (The Classics), dry Israel, moist Cuba, Costa Rica of the junglesólots of lands. And lots of waters, tooóI would tell you about all the waters where Iíve swum, from the muddy Ponchartrain to the brain-freezing North Sea to the warm crystal cenotes of the Yucatan. On the surface or down underneath, with a tank or snorkel.
I come by the wanderlust honestly. My parents grew up well-rooted but, when hoof-and-mouth disease threatened the continent, they headed for the wilds of post-revolutionary Mexico with about 20,000 other cowboys, veterinarians, secretaries, and livestock appraisers to fight back the danger to North Americaís food supply. I was the daughter of people who never saved money; they counted their wealth in stories. Adventure was the order of the day; my family prized the weird in everything from food to language. (Even deep into old age, my father would save up colorful sayings to delight me.)
And I love to take people to new places, too. Physical places, sometimes, like when I invited a few friends to come get lost with me in the bayous north of Lake Ponchartrain. (They were a little put out when we actually did get lost. Werenít they listening?) But for the last 19 years or so, itís often been a new place of ideas or spiritóIíve made my living as a seminar-leader, planning and leading learning adventures about all kinds of things and ideas that leave people with new horizons in front of them. New places to explore.
My short stories range from horror to science fiction to fantasy (the most numerous) to contemporary realism. [MORE]
---