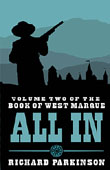 PREVIEW THE BOOK

GENRE:
Fantasy
Westerns


---
KINDLE
KOBO
NOOK
i-BOOK
google PLAY
---

E-BOOK:
ISBN: 9781770531383
EPUB, MOBI
$5.99 US

Paperback:
ISBN: 9781770531178
Trade Paperback
5.5" X 8.5"
$14.95 US
$19.95 CAN
280 Pages


---
BISAC:
FIC009000
FIC033000


All In (Volume Two of The Book of West Marque)

---
Dirty, dangerous, pristine, and opulent.
Welcome to West Marque.
The Call has gone out, summoning the Fifth Wheel to the Holy City, Jonah's Sword. There, they prepare to take their sacred oath as knights-of-the-realm. The Marshals, the Marshals' Men and even the High Marshal himself, Ablechance Mainhouse, will attend.
The oath swearing occurs only once every twenty years and is often accompanied by change…and sometimes war.
The realm has enjoyed peace for nearly two decades under Mainhouse but the bitter taste of defeat still lingers in the mouths of his old rivals. Many would like to see the old man removed from the High Seat, including Genevieve Goodregard, the Lady of Seawall.
Genevieve desires to see her husband as High Marshal and herself as High Lady. She has worked hard to this end with the help of the scheming and powerful bishop, Michael.
For Genevieve, the Call is much more than the swearing of an ancient oath. It is a call to action. The chips are down, the important players are gathered, and it is time for her to play her hand. It is a time for her to go All In.
---
About the Author:
Richard Parkinson was born in Montreal and raised in southwestern Ontario. He wandered around the wilderness from job to job, taking the occasional university course. He played solider as a historical re-enactor, hit the stage as a wannabe rock star, tried his hand as a puppeteer running his own Punch & Judy show, and worked hard on his quest to become a "renaissance man". The results were equal to Don Quixote's quest to revive chivalry and many of Richard's friends took on the role of the sensible Sancho Panza. On the side, he dabbled in homebrew RPG design with the enthusiasm of a medieval alchemist.
Unfortunately, he often enjoyed the same results as the medieval alchemist, sometimes explosive and always realizing that base metals could not be turned to gold. He then fell into journalism. In May 2015, Richard saw an interesting fork in the road and decided to take it. He switched careers, and he left the newspaper industry to work in the trucking industry.
Richard lives in Essex, Ontario with his wife, two dogs, and four children. [MORE]
---
The Call (Volume One of The Book of West Marque)
All In (Volume Two of The Book of West Marque)
---