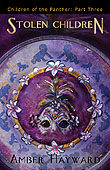 BISAC:
FIC009000

PRINT BOOK:
ISBN: 978-1-894063-66-1
Trade Paperback
5.5" X 8.5"

$16.95 US
396 pages



AMAZON.COM
AMAZON.CA (TBA)

E-BOOK:
e-ISBN: 978-1-894063-67-8
$2.99 US



KINDLE
NOOK (TBA)
i-Pad (TBA)
KOBO
SONY READER (TBA)

E-BOOK (multi-format):
SMASHWORDS (TBA)

Stolen Children (Children of the Panther: Part Three)
Book Three of the trilogy...
Stolen Children tells the tale of Ana, a girl with amazing psychic powers. Although under the thumb of Caldos, a megalomaniac wizard, Ana continues in her loving goal to heal all who need healing. At her touch babies become part of a psychic tribe whose loyalty is only to each other, who are disdainful of individuals without their powers. These infants crawl away from their natural families, braving any danger, just to be with their own kind.
The novel culminates with desperate struggles across America and Afghanistan, with a breathtaking climax in the windy city of Lethbridge, Alberta.
About Amber Hayward
Amber Hayward writes novels, short stories and poems. Although she keeps busy on the family-owned Black Cat Guest Ranch, near Jasper, Alberta, she also keeps her fiction muscles flexed by with her Story 365 project, writing a short story every day for a year and posting them on her website. [MORE]
---
Books in this series: