FEATURE — K. A. Bedford Comes to North America
In just one short month, Australian author K. A. Bedford will be standing once again on North American soil. The reason for the long trip to North America is quite simple; promote his new book!
Time Machines Repaired While-U-Wait is being released in August and to help kick it off, K. A. Bedford is coming and doing a North American Tour. He flies into Denver, where he is taking part in the World Science Fiction Convention/Denvention. Bedford is scheduled to sit on some panels and will be available for signings at our booth. Keep watching our website for the times and dates for those.
After a short time in Denver, K. A. Bedford then flies to Calgary for ConVersion where he is the Guest of Honor. He is scheduled for panels and talks while there and will be available for signings as well. For information about which panels he will be on, check out our website as well as the ConVersion site.
From Calgary, K. A. Bedford will be appearing at some local bookstores in Calgary. We will be announcing those stores shortly on our website.
Lets Show K. A. Bedford how North Americans love their authors! Preorder your copy of Time Machines Repaired While-U-Wait today and get it signed by him when you see him!
About the Book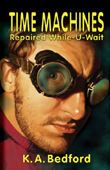 In the future, Aloysius "Spider" Webb will journey to the End of Time...

For now, Spider must be content with repairing broken time machines, rebuilding his life and avoiding the lunatic antics of his boss, Dickhead McMahon.

Spider's life is status quo until he discovers inside a broken second-hand time machine, the corpse of a brutally murdered woman from the future. The Department of Time and Space steps in to manage the situation — leaving Spider asking a lot of questions that only lead to more questions; unsettling evidence, brewing trouble, and the knowledge that Spider himself might be involved in an epic battle for control of time itself.

Will his knowing the future be a curse or a blessing? and will Spider Webb really find out how things turn out before they happen? With his new found knowledge, who can Spider trust?

One thing is certain: it will all happen before the End of Time!
His Schedule so far:
World Science Fiction Con/Denvention
August 14th, 5:00pm The Sentry Box, Calgary, AB
On the EDGE Interview, August 15th
ConVersion Guest of Honor
Interview with K. A. Bedford:

(18:56)
K. A. Bedford
Time Machines Repaired While-U-Wait

Time Machines Repaired While-U-Wait
August 2008
336 Pages, $17.95

Starting July 1st (yes I know it is passed July 1st), EDGE is now sending out Chapter Ones of all the fall books via rss feed along with our interviews and podcasts.
Just click on the hot pink button below and subscribe today! Look for the button on our website next to material that can be subscribed to. If you know someone who would like to subscribe, pass this link to them today: http://feeds.feedburner.com/edgewebsite/pWXc
Order your copy today!

Fall 2008 Releases:
Visit the EDGE website to download Chapter One of each of the Fall 2008 books!